Author: Mary Sweeney, Marketing and Development Director, Down Syndrome Association for Families of Nebraska and Melanie Kirk
Every day the Enable Savings Plan team is grateful for and motivated by our community of Account Owners and their loved ones. We cherish every opportunity to highlight stories from our community, and today we are delighted to share a conversation between two fantastic leaders and moms, who discuss their stories and the importance of saving for disability-related expenses. To read more about Melanie's story, and for other great resources, visit the Down Syndrome Association for Families blog.
"Teddy is sunshine," describes mom, Melanie Kirk. "He has this ornery little giggle…and is sassy, bossy, and absolutely hilarious."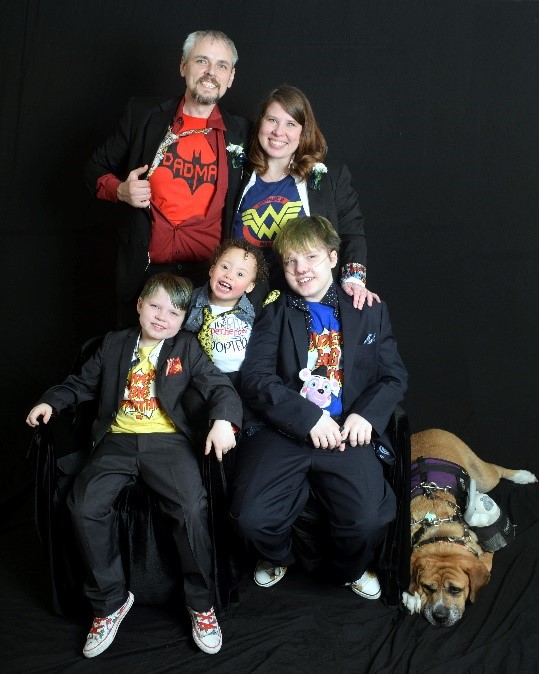 Stanley and Melanie Kirk along with big brothers, Logan (14) and Oliver (9), welcomed Theodore "Teddy" (3) into their family last November 2019 on National Adoption Day.
Many families, mine included, struggle initially with receiving the news that a child with Down syndrome is entering their lives. For the Kirk family, though, there was a much different sentiment the day that Teddy officially became "theirs."
Melanie shared that after months of fostering, they were thrilled Teddy was joining their family! "We decided that the theme for Teddy's adoption celebration would be 'All the best superheroes are adopted.' Like the Kents (as in Clark Kent – or Superman – for all you non-superhero people), our home has been entrusted with the care of an amazing life that we didn't bring into this world, but who we adore as though we did. And we are charged with helping him grow into the amazing person he is meant to be. In the immortal words of Stan Lee, with great power comes great responsibility."
Recognizing the gravity of that responsibility, and that the joy of getting to know Teddy and his bundle of curls is also a somber occasion for his biological mother who is missing those moments, the Kirks make sure Teddy knows his birth mother loves him and she still has contact with him.
Teddy is thriving! He loves learning about Minecraft from his oldest brother, Logan, and getting into wrestling matches with Oliver. The family has participated in the Step Up for Down Syndrome Walk for the past two years and other programs hosted by the Down Syndrome Association for Families (DSAF), which is sponsored by the Enable Savings Plan. Melanie and Stanley find much comfort and support within the Down syndrome community.
"It is so amazing to be able to speak with other parents and families [within DSAF] who understand the experience of being blessed with a child affected by Down syndrome. It's more than a shared diagnosis. It's a shared experience."
Teddy and his older brother, Logan, both qualify for an Enable Savings Account to help save for their future and protect the valuable resource-based services available to them. Although they have yet to set the account up – what with all the irons in the fire with chasing after Teddy! – it is at the top of Melanie's list to accomplish as she sees so much value in the program.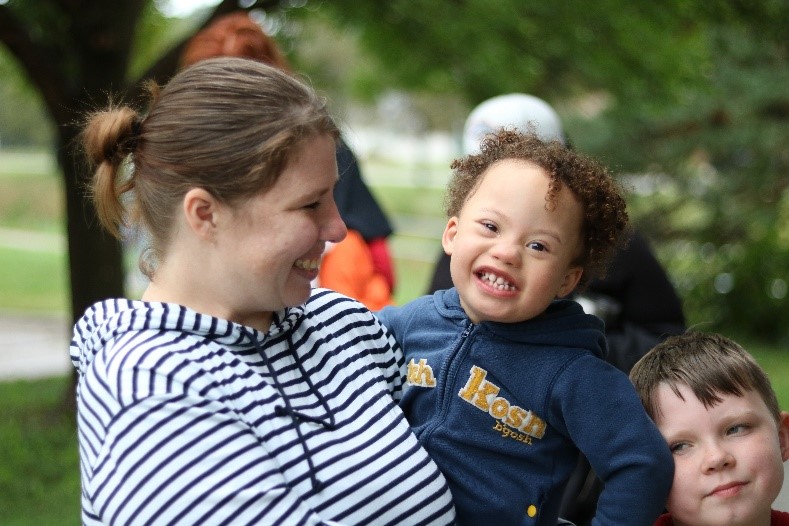 When asked for any final parting thoughts, Melanie wanted other moms and dads raising, fostering, or adopting a child with Down syndrome to know, "You are not alone. It's okay to be scared and feel a sense of loss when you realize that your child's life and your life will be different than you had imagined. Different isn't less. It's just new. Please consider opening your heart to children in the child welfare system as a foster parent. There are so many children who need support and love…"
Spoken like a true superhero's mother.
For more information on fostering or adoption, visit the Nebraska Foster and Adoptive Parents Association at nfapa.org or National Down Syndrome Adoption Network at ndsan.org.