Author: Kevin Miller, Senior Advisor, Wholesale Banking, First National Bank of Omaha
I find it difficult to believe that it has already been 10 years since receiving the Down syndrome diagnosis of our youngest daughter, Ashtin. I still remember vividly the weight of that news—it was not expected, and I felt ill prepared to take it in. The unknowns seemed countless and daunting…how would this affect her? How severe is it? Will there be health issues? What do I need to do? What can I do? I had a lot of questions that I knew only time and patience would be able to answer.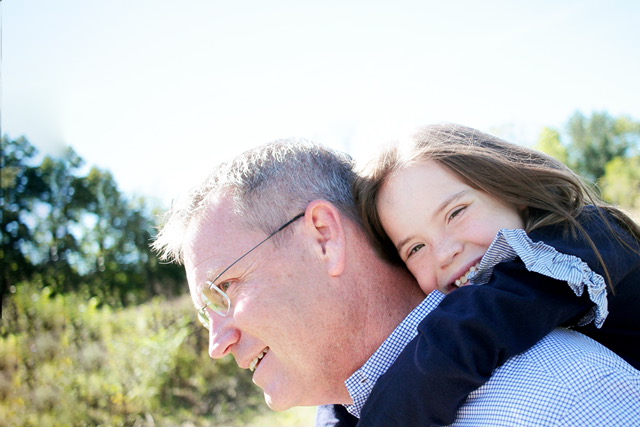 I quickly realized there was a lot of support and comradery within the Down syndrome and special needs communities. Within literally hours of the birth of Ashtin, we were greeted with a welcome basket from the Down Syndrome Guild of Kansas City. This led to lifelong connections with people and families who not only support and encourage but listen and advise. We found tremendous support with aspects of growth and development, and early childhood education, through Infant Toddler Services of Johnson County. We have been active participants each year in the annual Step Up for Down Syndrome Walk and Family Festival. This has brought together our family, friends, neighbors and classmates in ways we couldn't have imagined. We have been blessed spiritually by a special needs ministry through my Church called SOAR (special opportunities, abilities & relationships). This has provided my family opportunities to not only be blessed by the love and support of others, but to also give that love and support to others.
Today, Ashtin is healthy and very active in school as well as extracurricular activities. She has a strong will to achieve and do just as her older siblings. She currently is a member of the KC Cheer special needs cheer team called Firecrackers. She performs with her team at competitions as well as special events. She sings and dances as part of the Special Chorus at her elementary school and has been a member of the dance club for the last three years.
As I look forward and think about the next 10 years, those initial fears and concerns have become thoughts of joy and optimism. It is reassuring to know that there are resources throughout the various stages of her life to help meet the needs of all of us. I look forward to watching Ashtin proceed through Middle and High School and envision her utilizing services provided by places like Inclusion Connections and the Mission Project. The understanding and acceptance of individuals with special needs continues to grow and evolve. I am especially encouraged by the passage of the Achieving a Better Life Experience (ABLE) Act in 2014. This Act opens the doors for Ashtin to be able to set aside funds that will provide her the ability to pursue the life experiences that she desires without jeopardizing needed resource-based benefits in the future.
Kevin Miller is employed with First National Bank Omaha (FNBO), the program manager for Enable Savings Plans. He currently holds the position of Senior Advisor, Treasury Services for the Wholesale Banking Group within FNBO.